Please call 07956 406 178
Simon Wood – The MK V AR Omega Revolution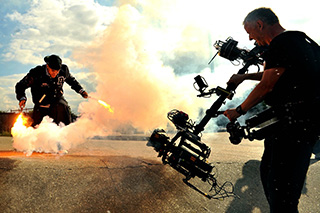 The MK-V Omega Revolution System is the perfect addition to Steadicam. Basically it's a fully stabilised roll cage that the camera sits in, mounted on top of a Steadicam rig. The AR's electronic and software driven system actively stabilises the roll cage and with it the camera.
The additional fusion system allows programmed rolls to be dialled into the software and remotely activated, quickly, simply and at any speed whilst been fully stabilised!
Amazingly Versatile
In the hands of an experienced professional like Simon Wood, the Omega Revolution will perform perfectly smooth tracking shots just like a normal Steadicam but in addition the Revolution allows the transition from high-mode to low-mode and back again (in less than a second if needed,) all whilst maintaining a perfectly level, fully stabilised, horizon during the shot. The camera is now also able to work at any lens height and because the Operator can constantly vary the height it is shot at, the camera can pass over / under tables, through windows, reach extreme low mode and then up to extreme high mode all in the same shot.
(See some of Simon's recent work.)
Achieving The Director's & DoP's Vision
This now means an "experienced" Revolution operator can perform a sequence of perfectly crafted, innovative and dynamic shots to assist the Director and DOP to realise their vision (perhaps even in a way that they may have not thought possible).
The Revolution will raise production values on any project big or small. Perhaps just as importantly it will save time, and time is money. Simply because, in the right hands, it can produce such a range of shots quickly and effectively with the absolute minimum loss of 'down' time.
The Omega Revolution combines the flexibility of a Steadicam with the boom range of a jib arm, taking body mounted camera stabilisation to a totally new level.
The AR roll cage can also be utilised as a stand-alone unit in combination with regular camera support like fluid / geared heads and remote heads (stabilised 3rd axis) or even hand held. In combination with the Fusion system it's possible to rotate the camera to any angle without losing the benefits of the active stabilisation. The cage can spin the camera at up to 360 deg. per second.
The MK-V AR System has been designed to work with many cameras – ranging from small HD cameras to 35mm film and digital formats – generally the lighter the camera the more dynamic the shot can be……. Please call me to discuss your requirements:
Simon Wood – +44(0)7956 406 178
SHOW REEL