ABOUT SIMON WOOD
Please call 07956 406 178
Simon Wood – AR Revolution & Steadicam Owner Operator
Simon is recognised as a leading specialist AR Omega Revolution and
Steadicam Operator
working on Film, TV and High-End Commercials.
He has a reputation for being exceptionally skilled, knowledgeable, dynamic and innovative in his approach as well as being a true professional who is easy to work with.
Recently, he has worked on major prestigious projects throughout the UK and Europe. He is happy to travel to any location worldwide.
To see examples of Simon's work please take a look at his SHOW REEL:
– 
Smithwick's 2015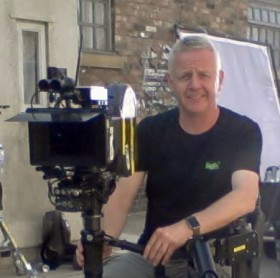 – 
Selfridges – Video commercial 2015
Video's on Vimeo
– 
The Sunday Times "Icons" commercial
– 
The making of the Sunday Times "Icons" commercial
, and
– 
Strictly Come Dancing "Weekends" commercial

.
(All of these links open a new window. Please close it when finished.)
Equipment
On the technical side, Simon's equipment includes: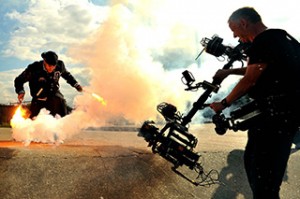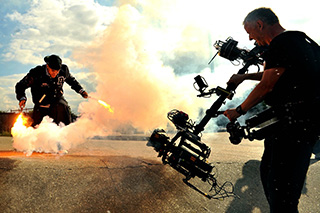 – Latest AR Omega Revolution complete with full support package.
– Highly comprehensive and complete Steadicam kit with all the support accessories needed to facilitate any requirement.
– Latest Segway hands-free system built specifically for use with the AR Omega Revolution and Steadicam Systems. Offering a static shot ability and the capability of moving at up to 12 mph tracking speeds.
* Simon has duplicates of all of the above listed equipment and offer a dry hire facility. Please call for further details.
Contacting Simon – More Information
Simon can be contacted at 
simon@simonwood.tv
 or on
+44 (0) 7956 406 178
. Please contact him directly to confirm his availability. For more information about Simon's background please 
click here
. To read more about specific equipment including the use of the Segway, please 
click here
.
AR Revolution & Steadicam Training
In addition to working as a hands-on professional operator, Simon offers one-to-one, and small group, AR Revolution and Steadicam training in the UK, and globally. He has a wide experience of working with all skill levels from the complete beginner to talented operators interested in establishing a skill base with the AR Omega Revolution. He always tailors the sessions to meet the needs of the individual or group. For more information please 
click here
, or contact Simon directly. ** Please be aware that, because of his high level of work commitments, Simon may not always be able to respond immediately.